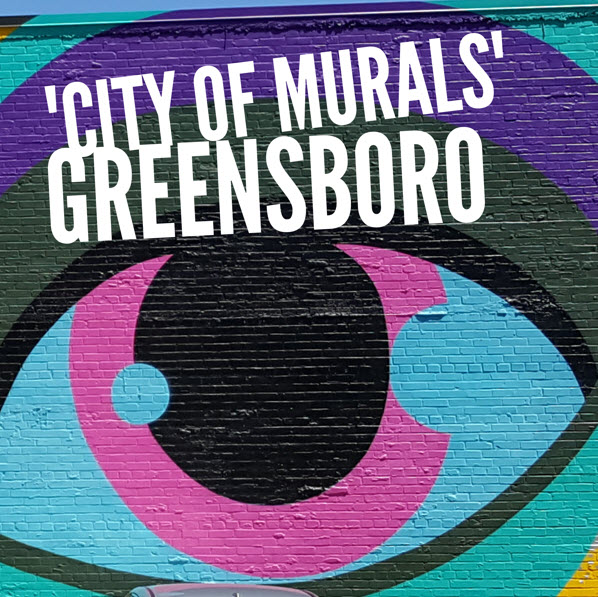 By Thad McLaurin, RunnerDude's Fitness
One of the things I love about running downtown Greensboro and the surrounding neighborhoods is how art is being incorporated into nooks and crannies all over the city. Once blank walls, barren alleys, and drab industrial areas are becoming vibrant spaces to enjoy and appreciate. There are remnants of murals from days gone by on downtown buildings and those are cool in a nostalgic kind of way, but this new art I've encountered on my runs is vibrant, whimsical, intriguing, thought provoking, and often just fun.
RunTheBoro Run #5 will take runners by many of the murals I've encountered on my runs. This week's route won't be able to include all of the murals the city has to offer, since our route is about 9 miles long, but you'll get a good taste. In my research for this article, I discovered that there are several organizations in Greensboro whose passion is creating murals for the downtown Greensboro area. Examples of their artwork can be found inside and outside community centers, parks, tunnels, underpasses, places of worship, and businesses throughout the city.
The Greensboro Mural Project
The Greensboro Mural Project is one such organization creating outside art for the city.  In 2011, Alyzza May and Katrina Siladi were doing some work together in the Edibel Schoolyard at the Greensboro  Children's Museum on Church Street in downtown Greensboro. While working they discovered they both were interested in murals. Not really an interest, they both had a passion for murals. Both were fans of projects such as the Beehive Collective in Maine and the work of Judy Baca, both who worked creating massive murals tackling current social issues. Alyzza and Katrina decided a similar thing could happen in Greensboro using murals in public space to to help bring the community together.
Soon after, the pair working with the Greensboro's Children's Museum, decided to involve the community in creating a mural for the retaining wall of the Edible Schoolyard which borders Lindsay St and Church St. The two artists surveyed close to 300 people asking, "What would make Greensboro a healthier city?" The responses they collected were used by lead muralist Kathleen Kennedy, a local artist who had produced murals for Guilford College and Wesley Long Hospital. In 2011 the mural shown below was created. It truly is an amazing piece. It's so lifelike. The way the live tree is incorporated into the artwork is amazing.
Alyzza and Katrina were initially unsure if they wanted to pursue the idea beyond the first mural, but community response prompted them to keep going.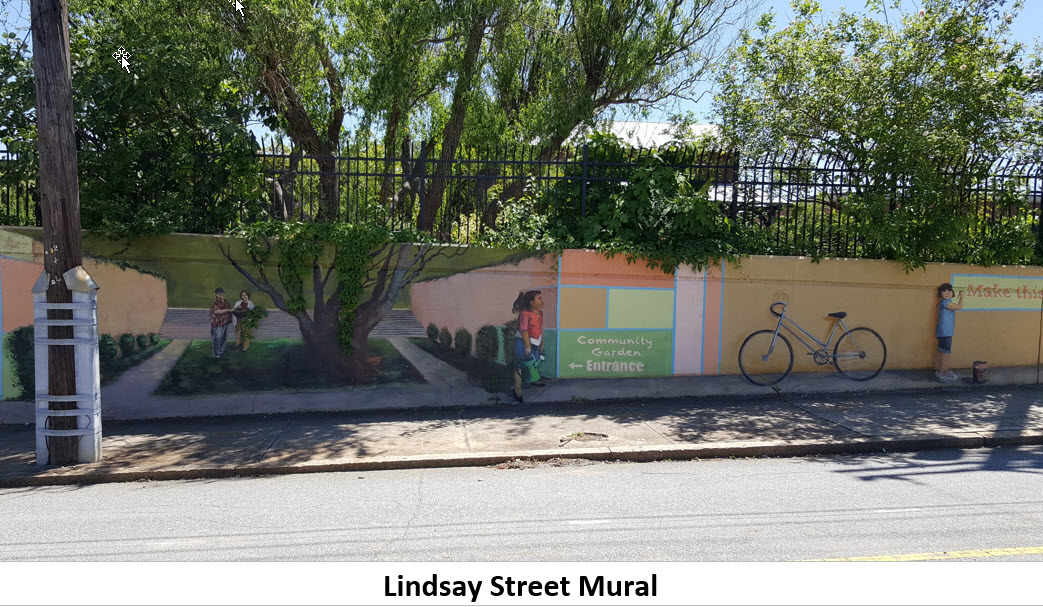 Below are more works in Greensboro created by The Greensboro Mural Project.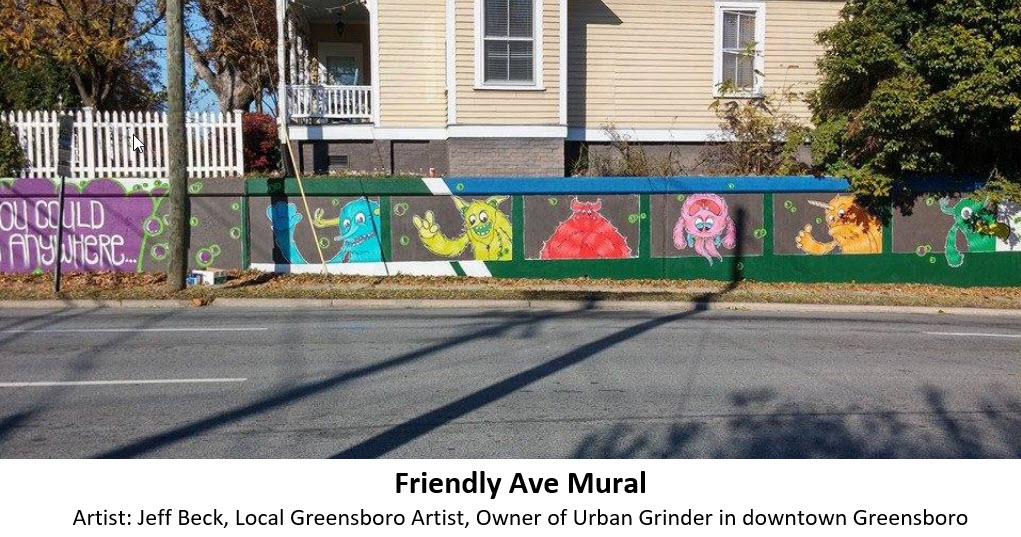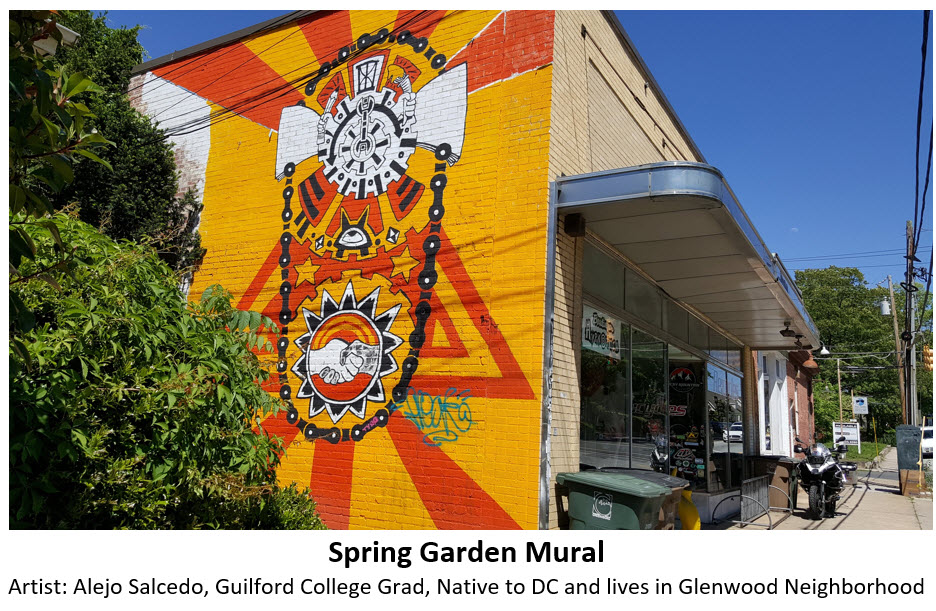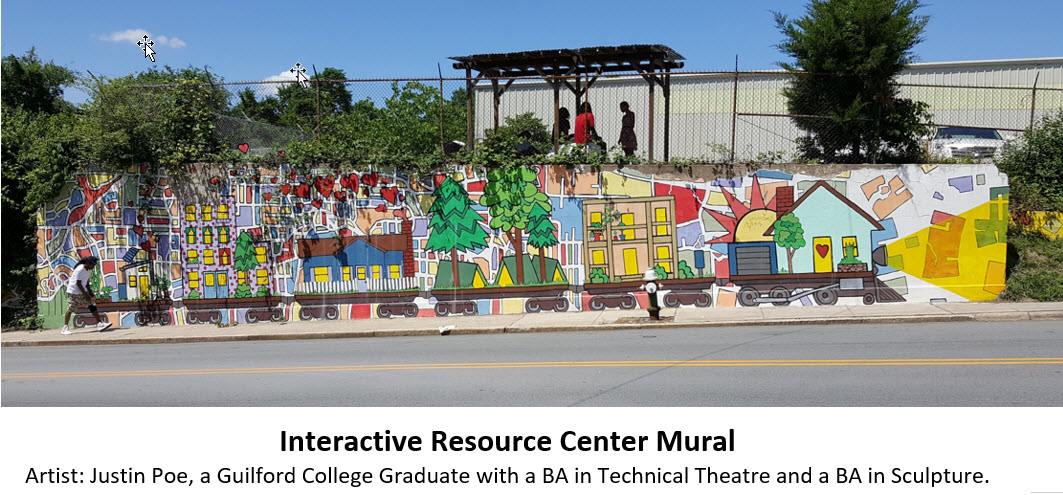 To learn, get involved or make a donation to The Greensboro Mural Project click here.
No Blank Walls and Create Your City
Other projects responsible for great murals in downtown Greensboro are  "No Blank Walls" and "Create Your City." No Blank Walls is a project created by founders Jeff Beck (a local artist and owner of Urban Coffee Grinders on N. Elm St in downtown Greensboro) and Ryan Saunders (founder of Create Your City, and Tracks Bazaar) to bring murals and street art to the downtown Greensboro. No Blank Walls works with local artists as well as artists from around the world.  Through fund raising and donations from area organizations such as the DRA (Downtown Residents Association), No Blanks Walls has been responsible for the creation of several downtown murals.
Today, I had the opportunity to communicate with one of the local artists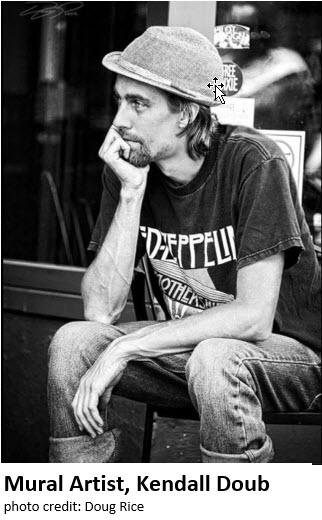 working with No Blank Walls, Kendall Doub of Winston Salem.
Kendal comes from a studio art background originally. He got into contemporary mural art about 8 years ago… He's always loved painting large works on canvas but was always limited by available space to create the work. Kendal found that indoor and outdoor mural work gave him the opportunity to take on very large scale projects. "I am a big supporter of public art of all types. Public art including murals to me are a great way to enrich a community and bring art to all types of people. Not everyone will go to a museum or an art gallery but we all walk down the street." Kendall says working outside has its challenges whether it be weather or rough hard to paint surfaces… but he loves the challenge. Kendall says that many artists find large scale to be scary but he finds it very freeing. Kendall says he's very inspired by illustration, color and story telling. He loves creating images with his murals that begin to tell a story and allows the viewer to continue that story…. creating their own next chapter or ending.
Kendall has worked on two murals for No Blank Walls. One is called "The Wanderer" which is located on the back of a building on 116 Market St. The mural can be seen from Davie St. Runners on RunTheBoro #5 will run past this awesome mural.
Kendal also worked with several other artists (Jeff Beck, Zac Trainor, Marshall Lakes, Stewart Knight, Gina Franco, and DJ Herbin) on another No Blank Walls project. For this project No Blank Walls worked in collaboration with the City of Greensboro and the Windsor Recreation Center painting murals on the inside and outside of a tunnel which runs under Gate City Blvd connecting the rec center with ball fields on the other side of Gate City Blvd.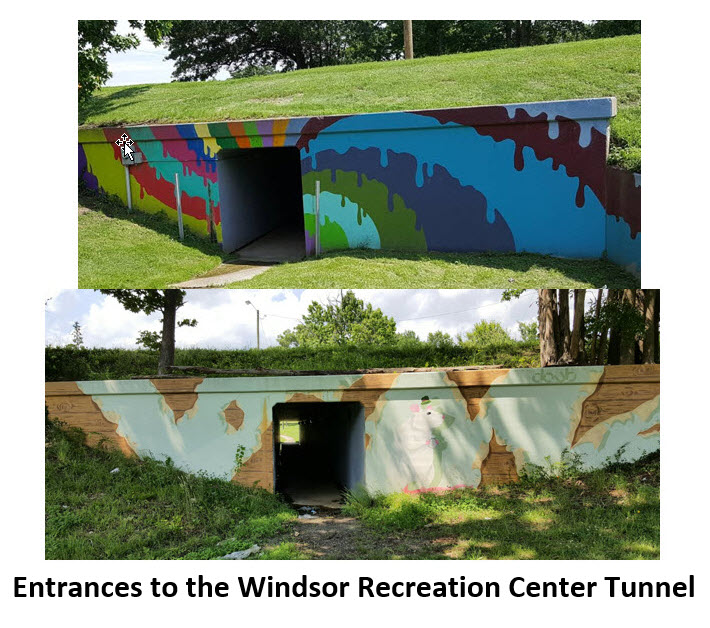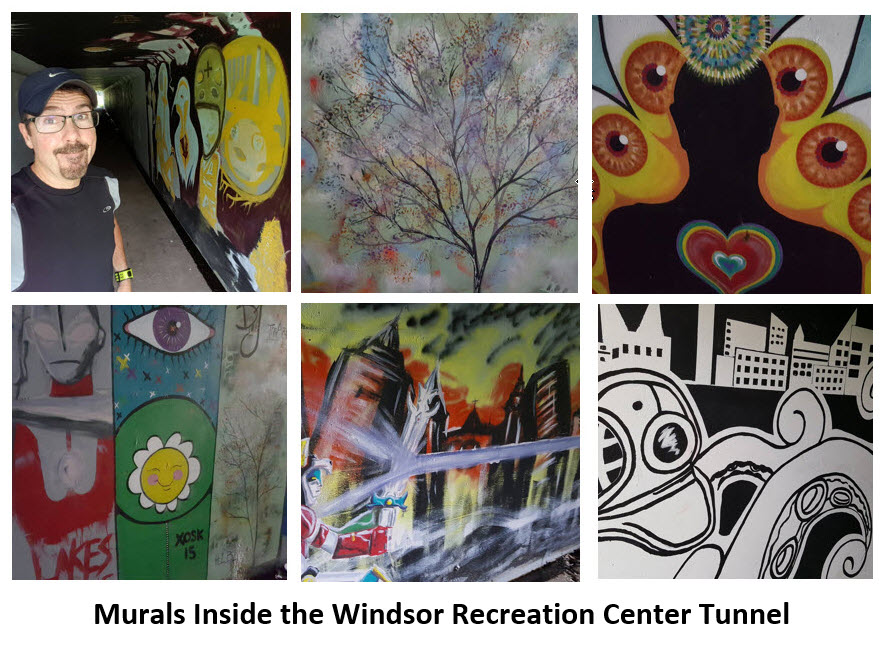 No Blanks Walls and Create Your City has worked with artists from around the country and world in producing art for the city. On the other side of the same building on which "The Wanderer" is painted, is a massive mural titled "Remember" by the artist The Art of Chase. Chase has painted more than 300 murals around the world. His work is concentrated in Los Angeles but also can be found in Tokyo, New York, Lisbon, Barcelona, London, Paris, Antwerp, Berlin, Amsterdam, Lyon and Prague. Chase has also created murals for the new Tracks Bazaar which RunTheBoro Run #5 runners will be running through on Saturday.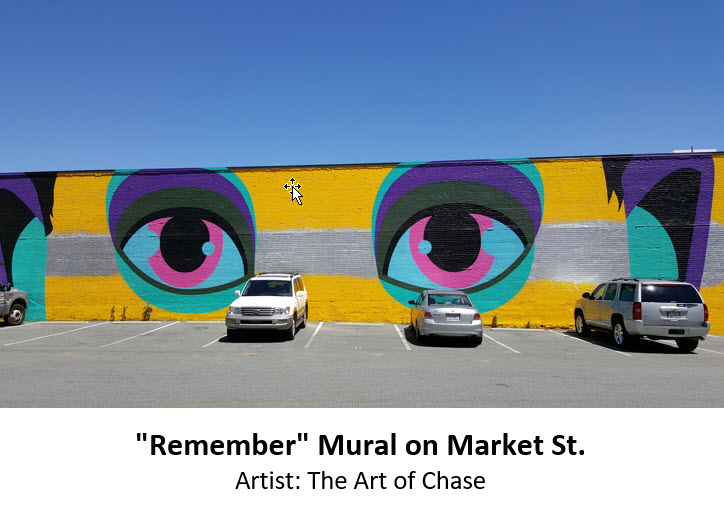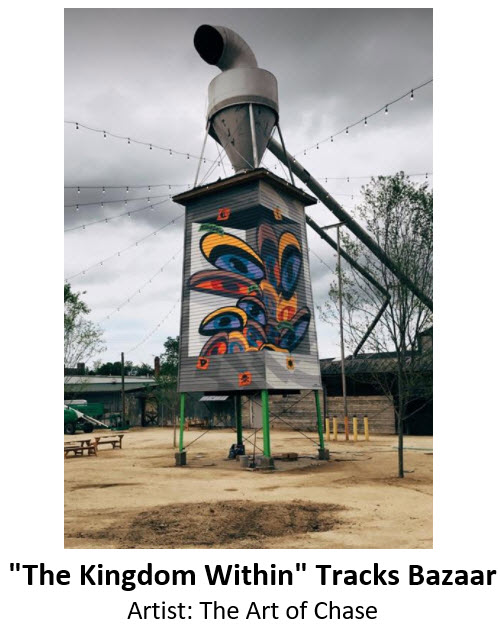 Jesus Benitez, an artist from Mexico City worked with  Create Your City to create a beautifully massive mural at the Tracks Bazaar on Gate City Blvd.  Jesus's
 artwork is inspired by travels and exploration of Japanese culture. Many of the images on the wall at Gate City were inspired by photographs he took during his travels.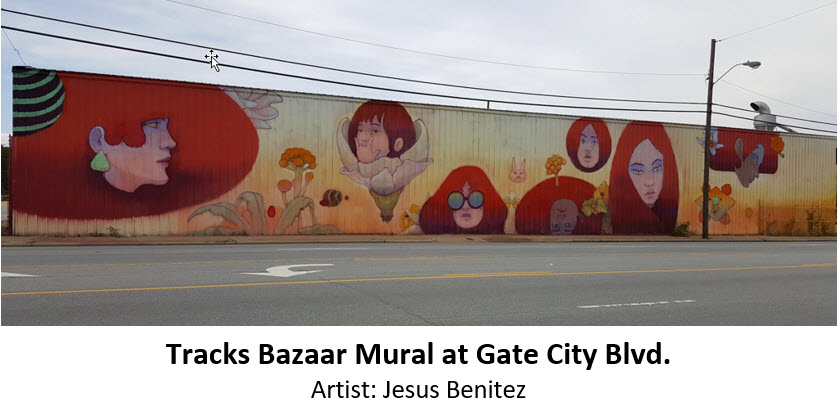 Other Murals In The City
Another massively awesome mural can be found at Hamburger Square on Elm St. Artist Kim Kennedy saw the blank wall on M'Coul's Public House and knew what needed to go there. She created the mural below featuring local musician, Joey Barns. A News & Record article states that "Kennedy is pursuing a dual career in Nashville, Tenn., as a singer-songwriter and visual artist. Late last year, she met another singer-songwriter, Greensboro's Joey Barnes, at a songwriter's round in Nashville, and the two became friends.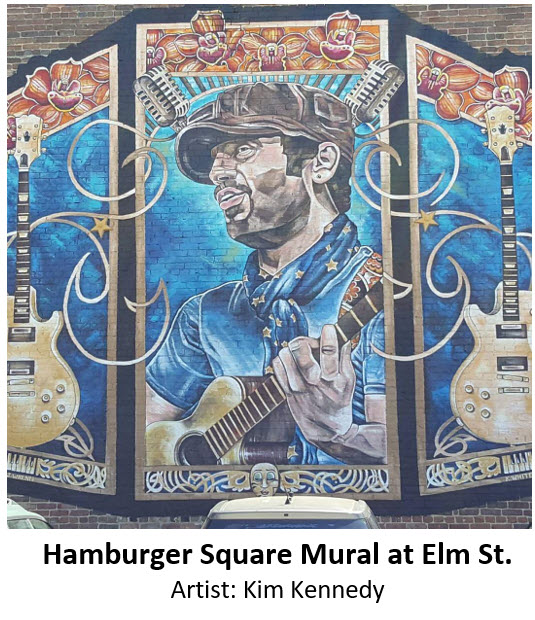 One mural that's a little further away from downtown is located on the side of a private residence on Mendenhall St. Homeowner, Ram Sethuraman wanted to portray positivity through art for all to enjoy and be inspired by. He decided to paint the image of Bollywood actress Madhubala on the side of his home. Madhubala was the Marilyn Monroe of Bollywood in the 1940s and 50s. She was known for her beauty, acting, and kindness. Like Marilyn Monroe she also died young at 36 years old. In this short life, she made over 70 movies, and still remains one of the most enduring legends of Indian cinema. Below is a video Ram made of the making of the mural. If I'm not mistaken, I believe Kim Kennedy who painted the Hamburger Square mural may have helped in the creation of the Madhubala mural. RunTheBoro Run #5 runners will run past this awesome mural this Saturday.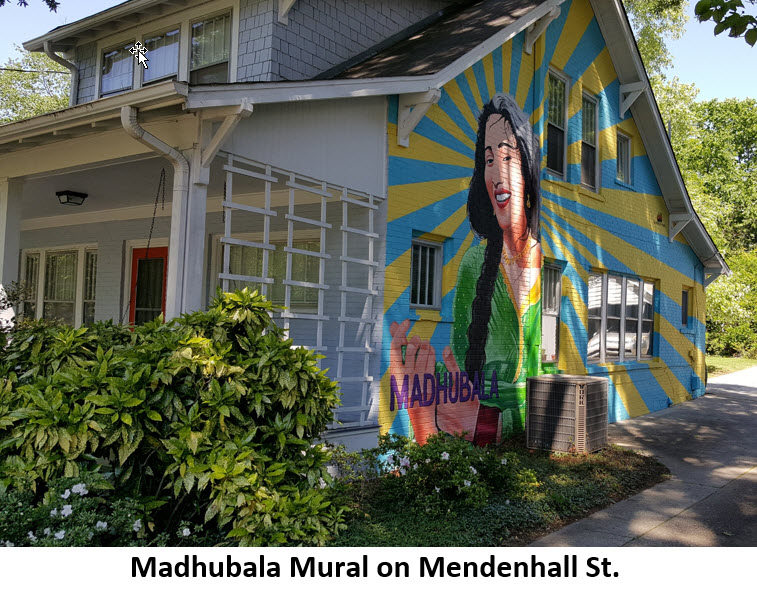 If you've walked any downtown, particularly on S.  Elm Street, Arlington, or Martin Luther King Jr. Drive, then you've probably seen dozens of connected numbered rectangles sprawling along the sidewalk.  I've been curious about these numbered blocks, so while researching the murals, I decided to see what these numbered blocks are all about.
Miami-based artist Agustina Woodgate and a team of students as a part of  Elsewhere, the downtown living museum and artist residency created the hop scotch pattern. According to a News & Record article, Woodgate began "Hopscotch" in 2008 with Miami artists Primary Flight in that city's Wynwood Art District with "786 Numbers." Subsequent appearances included "1302 Numbers" at the Bass Museum of Art in Miami, "1692 Numbers" in Buenos Aires, Argentina, and "1100 Numbers" at Playpublik Festival in Krakow, Poland.
The Greensboro Hop scotch began with number 1693
In the N & R article, Woodgate says, "The expanded game reminds us of our innocence. … Hopscotch exists for the streets, transforming monotonous sidewalks into daily playgrounds," Woodgate said in a news release.