All Paces Welcome! Walkers too!
Explore Downtown Greensboro and over 25 of it's beautiful surrounding neighborhoods as well as 4 of Greensboro's awesome greenways.  Each week we'll explore a different area of the city. The week prior to the run, you'll learn lots of historical information about the area in which you'll run. For example, did you know Vicks Vapo Rub was created in Downtown Greensboro? Did you know there is a complete intact mill village still in Greensboro?
Worried about getting lost? No need to. We have RunTheBoro Pace Guide leaders who do an awesome job leading runners at their given pace through each week's route.  There are Pace Guide Leaders for Walkers all the way to the speedy runners at an 8:00 pace. So, there's room for everyone at RunTheBoro. Worried you can't make the distance? No need to worry. Each week we have a shorter 4-5 mile route and a longer 8-10 mile route.

And the best part is it's FREE!!

Run Start Times
(All the runs begin sharply at 7:00am. Arrive by 6:45am to find your Pace Guide Leader.)
Run Start Locations
Run #1 (5/6): RunnerDude's Fitness (Directions)
Run #2 (5/13): 

Corner of S. Davie and E. Friendly Ave. 
Run #3 (5/20): Bill Black Chevrolet-601 E. Bessemer Ave. (Directions)
Run #4 (5/27): Green Joe's Coffee-2915 Battleground Ave. (Directions)
Run #5 (6/3):

Downtown

 

Public Parking Lot at W. McGee St. and S. Greene St.

 (Directions)
Run #6 (6/10): 

Omega Sports-Battleground Ave.

 (Directions)
Run #7 (6/17): 

Wrangler Building 400 N. Elm St.

 (Directions)
Run #8 (6/24): 

Westminster Presbyterian Church 3906 W. Friendly Ave.

 (Directions)

RunTheBoro T-Shirts, Magnets, and Stickers!
RunTheBoro T-Shirts, Magnets, and Stickers are sold at each run. A portion of the proceeds from the T-shirt sales goes to the Greenway Water Fund which for the past 5 years has put coolers of water and Gatorade in four spots along the Atlantic & Yadkin Greenway each Saturday for runners and walkers to enjoy. RunTheBoro participants are not obligated to buy a T-shirt.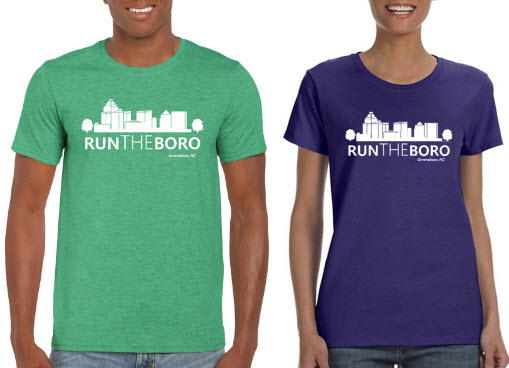 We are excited to have the RunTheBoro Newsletter for 2017 participants! There will be 8 issues of the newsletter. One issue for each week's route. The newsletter will contain all the historical information, photographs, and the RunGoApp route links for each week's route. Be sure to click the Sign-Up button below so you'll get this awesome addition to RunTheboro!
A huge thanks to this year's RunTheBoro sponsors!
 ♦  Marion Tile  ♦  Compass Financial Partners ♦
Be sure to check out the video recap of last year's RunTheBoro!