ALL THE BENEFITS OF PERSONAL TRAINING WITHOUT THE COST
CUSTOMIZATION, FLEXIBILITY, AND AFFORDABILITY IS WHAT SETS OUR SMALL-GROUP FITNESS PROGRAM APART FROM THE COMPETITION.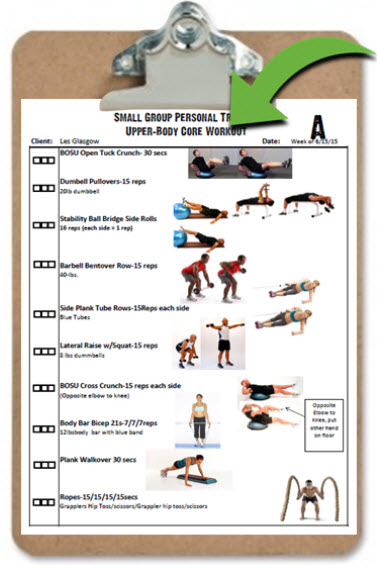 Unlike traditional whole-group fitness programs, each participant in RunnerDude's Small-Group Personal Training Program gets a custom workout geared for his/her own fitness goals. Constantly on the move during the workout, the trainer is teaching new exercises to participants, checking individuals for proper form, motivation, and answering questions. So, while you may have to count your on reps, a trainer is constantly available for support and guidance.
Your pic the number of days each week you want to attend and whether you want to come to the AM or PM group. The program is flexible. You can change days and move from AM to PM as needed.
AM Group: 6:00-6:45AM M, T, W, TH, F
PM Group: 5:30-6:15PM   M, TH
Because you're sharing space with other during your workout, the per-session fee for each 45-minute workout is only $20! Sessions are sold in 4-week bundles. The cost of your bundle depends on the number of days per week you select to workout.
1-Day-a-Week 4-Week Bundle: $80
2-Day-a-Week 4-Week Bundle: $160
3-Day-a-Week 4-Week Bundle: $240
4-Day-a-Week 4-Week Bundle: $320
5-Day-a-Week 4-Week Bundle: $400
(After registering, you will be contacted via email about your training sessions and we'll schedule your first bundle.)
Note: All sales are final. Credit can be applied towards other programs available at RunnerDude's Fitness.

Make a Bigger Commitment and Save Big!
Level 1–20% Discount: Buy three 4-week bundles (3 months)
Level 2–25% Discount: Buy six 4-week bundles (6 months)
Level 3–30% Discount: Buy twelve 4-week bundles (12 months)
EXAMPLE OF SAVINGS FOR A PERSON WHO NORMALLY PURCHASES A 2-DAY-A-WEEK 4-WEEK BUNDLE
Level 1: $384-After 20% Discount (a savings of $96)
Level 2: $720-After 25% Discount (a savings of $240)
Level 3: $1,344-After 30% Discount (a savings of $576)
(Call 288-6155 or email us at runnerdude@runnerdudesfitness.com to purchase multiple bundles.)