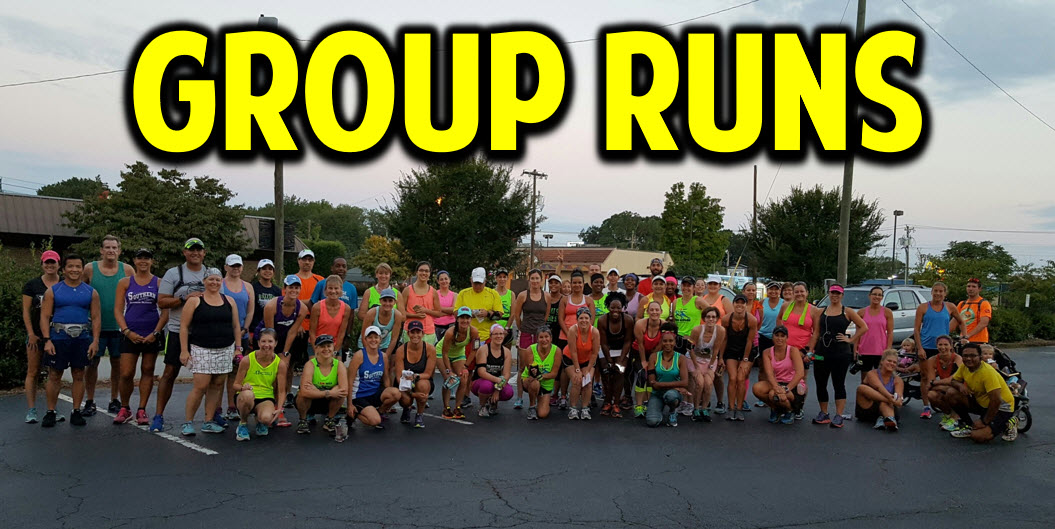 All RunnerDude Group Runs are 

All Paces Welcome! Walkers too!
FREE!
Time: 6:00 PM Warm-up; 6:05PM Run Starts
Location: Parking lot behind RunnerDude's Fitness  (2309 W. Cone Blvd.)
Distance: 3-6 miles
Note: From the spring time change through the fall time change, the first Wednesday of each month we start our run from Di'lishi Frozen Yogurt on Battleground Ave.

All Paces Welcome! Walkers Too!
Free!

 
Saturday, Feb 23rd
Location: Large Parking Lot beside Chick-fil-a at the Village (209 Pisgah Church Rd)
Time: 7:30am (the group heads out at 7:30am, so arrive a little prior to 7:30am)
Rest Rooms: available at Harris Teeter, Chick-fil-a, McDonalds
Okay, so here's the scoop on this weekend's RunnerDude Saturday Group Run. This Saturday, they are doing some major tree removal here at the complex where RunnerDude's Fitness is located. So, instead of a greenway run from RunnerDude's Fitness, we'll meet in the large parking lot between Chick-fil-a and The Village on Pisgah Church Rd. (209 Pisgah Church Rd). Arrive a little before 7:30am. We head out at 7:30am. Restrooms available at nearby Harris Teeter, Chick-fil-a, McDonalds, etc. Because of the short notice, I'm not able to do RunGoApp routes, but the route I suggest is to from the parking lot by Chick-fil-a to Elm Street. Turn left on Elm. Run down Elm into downtown. You can get up to a 9-mile out-n-back by running to Friendly/Elm. If you need 10 or more miles, keep running down Elm to Smothers (just after crossing the railroad tracks). Turn right onto Smothers which will bare left onto Spring Garden. When you reach Federal Pl (shorting after turning onto Spring Garden) you'll reach the turnaround for 10 miles. If you need 15 miles, keep running down Spring Garden to Lindell St. If you need up to 20 miles, turn right onto LIndell St and run it all the way to Market St, Then turn right onto Market and run all the way to Tate St before turning around.
Be sure to wear your GPS Watch or use GPS app on your smart for to track your mileage for turnaround points, or use the suggestions below.
Turnaround for 4 miles (Just past Cone Blvd/Elm)
Turnaround for 5 miles (other side of Cornwallis/Elm)
Turnaround for 6 miles (Sunset Circle /Elm)
Turnaround for 8 miles (Fisher Ave/Elm)
Turnaround for 9 miles (Friendly Ave/Elm)
Turnaround for 10 miles (Federal Pl / Spring Garden)
Turnaround for 12 miles (Stirling / Spring Garden)
Turnaround for 15 miles (Lindell / Spring Garden)
Turnaround for 17 miles (Market St / Lindell)
Turnaround for 18 miles (Chapman / Market)
Turnaround for 20 miles (Just past Tate St/ Market)
There will water coolers at:
Fisher Ave /Elm (@ mile 4)
Lindell / Spring Garden (@ mile 7.5)
Tate St. / Market St (@ mile 10)