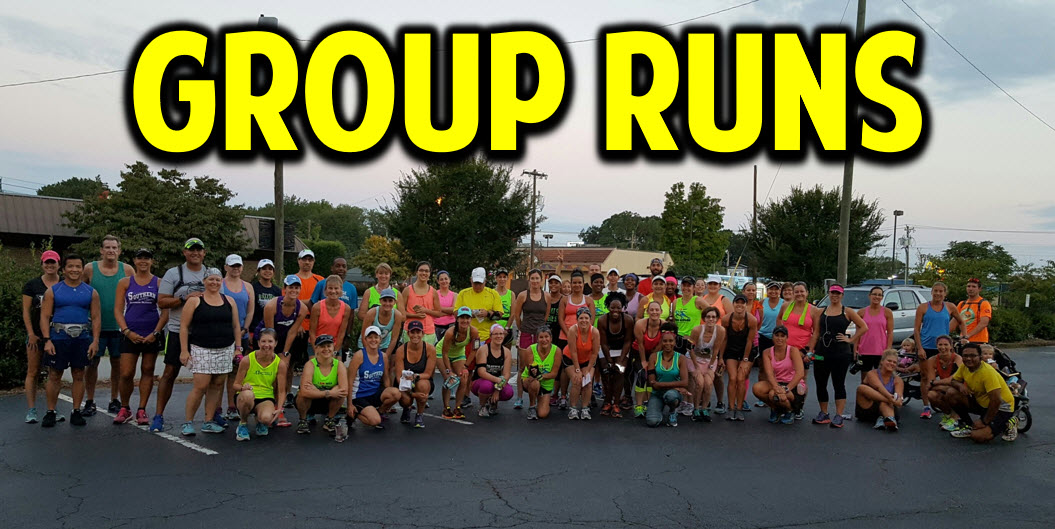 All RunnerDude Group Runs are 

All Paces Welcome! Walkers too!
FREE!
Time: 6:00 PM Warm-up; 6:05PM Run Starts
Location: Parking lot behind RunnerDude's Fitness  (2309 W. Cone Blvd.)
Distance: 3-6 miles

All Paces Welcome! Walkers Too!
Free!

 
Start Location and Routes for Saturday, Aug 18th
6:30AM
Starting Location : RunnerDude's Fitness (2309 W. Cone Blvd)  
Parking: Park in the back of the complex
Note:
There are restrooms at RunnerDude's Fitness
Change of Plans. The RunGoApp is having mapping issues, (and so I won't pull all of my hair out) we will do a greenway run starting from RunnerDude's Fitness
(2309 W. Cone Blvd.).
An out-n-back from studio
to Lake Brandt Road = 6 miles,

to just before 1st foot bridge = 8 miles,

to Owls Roost = 10 miles,

to second foot bridge = 12 miles,

to Strawberry Rd = 13 miles

to deadend tunnel = ~14 miles
More mileage can be added by running an out-n-back on Lake Brandt Road either before dipping down the greenway or after you come back up the greenway.
From the RunnerDude cooler at Lake Brandt and the Greenway to the fire department and back = 1 miles;

to Century Oaks Rd and back = 2 miles;

turning left at the light and running

to Air Harbour Rd and back = 3 miles,

running to last entrance of Jesses Wharton Elem Scho and back = ~4 miles.
So, there will be no RunGoApp links for tomorrows run. Plan on using your GPS watch and or app on smart phone to track your mileage so you'll know when to turn around. There are restrooms at RunnerDude's Fintess. Apoloies, Hopefully RunGo will cooperate for next week's run.
There will be coolers at the normal Greenway locations (Lake Brandt Rd, Owls Roost, and Strawberry Rd). If you are running less than 6 miles, there will be no coolers, plan accordingly.
Hydration Warning:
Even though there are waterstops provided on the 6-16-mile routes, it's highly recommended that you also bring your own hydration be it a handheld water bottle or hydration belt. With the high temperatures and high dew point, you can quickly become dehydrated.