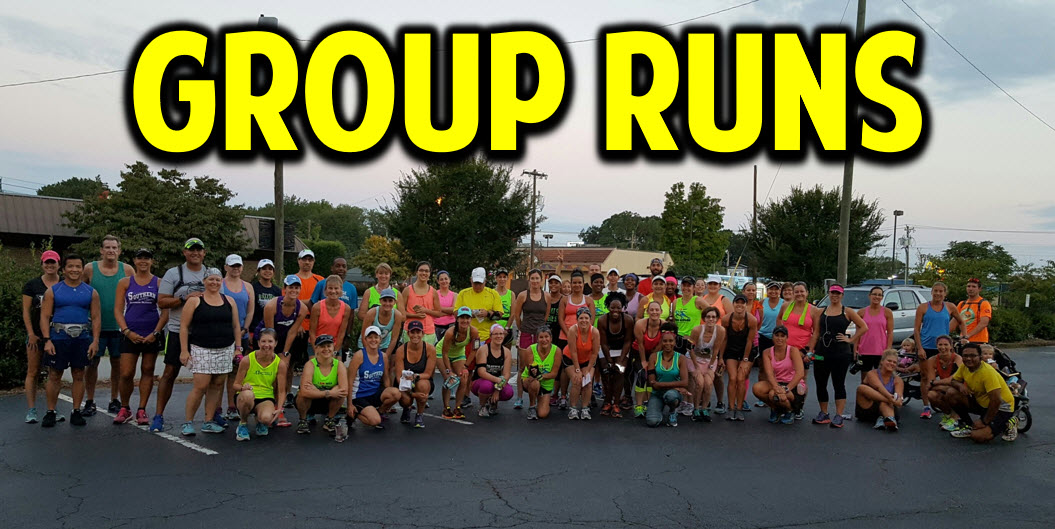 All RunnerDude Group Runs are 

All Paces Welcome! Walkers too!
FREE!
Time: 6:00 PM Warm-up; 6:05PM Run Starts
Location: Parking lot behind RunnerDude's Fitness  (2309 W. Cone Blvd.)
Distance: 3-6 miles
Note: From the spring time change through the fall time change, the first Wednesday of each month we start our run from Di'lishi Frozen Yogurt on Battleground Ave.

All Paces Welcome! Walkers Too!
Free!

 
Start Location and Routes for Saturday, Nov 17th
NEW START TIME for Fall/Winter: 7:30AM
Start Location: Nathanael Greene Traffic Circle (corner of W. McGee and S. Greene St)
Parking: There is a public lot accessible from S. Greene and N. Elm St. There is also a parking deck on the corner of S. Greene and Washington. Parking is free on the weekend.
Rest Rooms: There are no rest rooms available at this location, so be sure to make a pit stop before arriving.
Start Time: 7:30AM (Arrive prior to 7:30AM. 7:30 is when we leave.) NEW START TIME!
Download the RunGoApp prior to coming to the run. If your phone is prone to having issues with RunGo, then print out the route directions from the RunGo website on your desktop or handwrite the directions.
Routes: Searchable name: "Nat Greene Circle [ ]-Miler"
4-Miler   5-Miler   6-miler   9-Miler   10-Miler   12-Miler   13-Miler   14-Miler   15-Miler   16-Miler   20 Miler
Water Stops will be located at:
Spring Garden St. / Warren St. (6-16 milers; 7-16 will pass twice)
W. Market St. / Cedar St.  (11-16 milers; 12-16 will pass twice)
Note: There is no waterstop on the 4 or 5-mile routes.
Hydration Notice: Even though there are cooers along the route, it's highly recommended that you plan on bringing additional hydration sources with you be it a handheld bottle, hydration belt or pack.
Saftey Notice: This is a group run and not a race. Runners are to follow all traffic signals and street signs. It's best to run with a partner or group. Carrying a smart phone with your is highly recommended in case of an emergency, you can call 911.