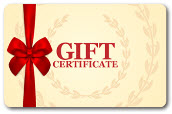 Not Sure which package or service to give as a gift? No problem! Give a Gift Certificate!
$50-$500 certificates available!

Note: Once you've purchased the designated amount for your gift certificate, we will contact you via email to find out more specifics such as the name of the recipient(s), if you'll pick up the certificate, if you'd prefer us to mail it to you or the recipient, and if you'd like the certificate to be customized in any specific manner.