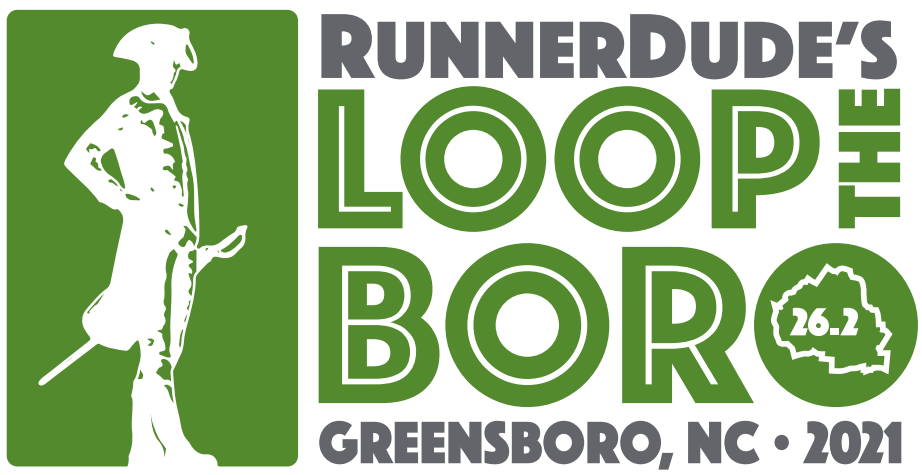 RunnerDude's at it again, creating a 26.2 mile loop around Greensboro! Loop The Boro is a virtual event that can be completed any time August 1st – October 31 2021. Participants can walk, run, or bike the loop. You can combine modes too! Want to bike half and run half? Go for it! Want to walk and run? Go for it! Want to Bike, Run, and Walk it? Go for it! You can do the 26.2 route all at one time or break it up into segments and complete the loop over several days or weeks. It's your loop! You can complete it however you desire. Participants will traverse through downtown, surrounding neighborhoods, and along Greensboro's beautiful Bicentennial Greenway.
REMEMBER! It's a loop, so if you break up the run, you'll need to plan on someone dropping you off at the segment start and picking you up at the segment's finish.
Where's the Start?
The loop begins and ends at the Nathanael Greene statue (traffic circle) located at the intersection of S. Greene Street and W. McGee Street. There is public parking lots and decks in the area (parking in public lots/decks is free on the weekends).
Where Does the Route Go?
The complete route will take participants through Downtown, A&T State University, the Revolution Mill area, the Lake Jeanette area, along the Bicentennial Greenway, through Western Greensboro, Guilford College, Hamilton Lakes, Starmount Forest, the Lindley Park neighborhood, UNCG and back into Downtown. WeeDoggie, that's a lot of Boro!
ATTENTION: Participants will be responsible for their own hydration and fueling needs while walking/running/biking the loop. THIS EVENT IS NOT A RACE. Loop The Boro is a virtual fun walk/run/bike event spanning several months. Participants are to obey all traffic signals and signs. All participant are required to sign a waiver at packet pickup.
Do I Have to Walk/Run/Bike it All at Once?
Nope! If you'd like to walk, run, or bike the route all at once, that's awesome, but RunnerDude will also provide options/directions for dividing the route into 2 segments (~13.1 miles each), 3 segments (~8.7 miles each) , or 4 segments (~6.5 miles each). Providing segments will allow you to walk/run/bike the 26.2-mile route over several days or weeks allowing you to customize your completion of the loop to fit your fitness level and schedule! Be sure to have the entire route completed by Oct. 31, 2021 in order to qualify for the Loop The Boro pint glass.
Reminder: If you break up the route, you'll need to use the printed directions provided with the materials you'll receive at packet pick-up. The RunGoApp route will be for the continuous 26.2-mile route. Also, you'll need to make plans for drop-off and pickup at your various starts/finish sites, since breaking the route into segments will make your walk/run/ride point-to-point instead of a loop.
Packet Pickup:
Dates/Times:
Friday, July 30th 4:30-6:30pm and Saturday, July 31st 10:00am-2:00pm at (TBD)
Location: (TBD) Participants will be emailed info on the packet pickup location at a later date.
At Packet Pickup, participants will receive:
Links to printable directions for the route
Links to RunGoApp turn-by-turn voice directions for the route
Suggestions for breaking the route into 2, 3, or 4 segments for those wanting to walk/run/bike the route over a few days/weeks.
Loop The Boro T-shirt (Full-Registration only)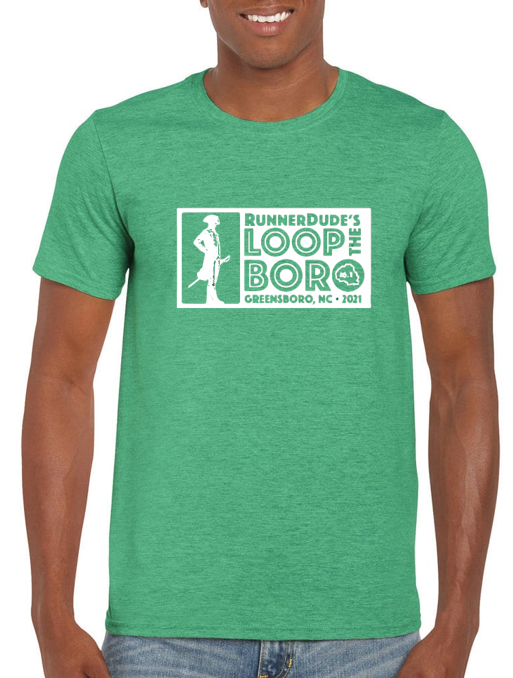 Special Finisher Bonus!
Participants who complete the entire loop by October 31, 2021 will receive a Loop The Boro pint glass! Participants wanting to receive a glass will need to email GPS mapping of their route (or route segments) to Thad ([email protected]). This can be done via any GPS tracking format such as Strava, Garmin, RunKeeper, etc… Simply email a screenshot of your completed loop or loop segments. Glasses will be available for pickup beginning in October at the RunnerDude Saturday Group Runs.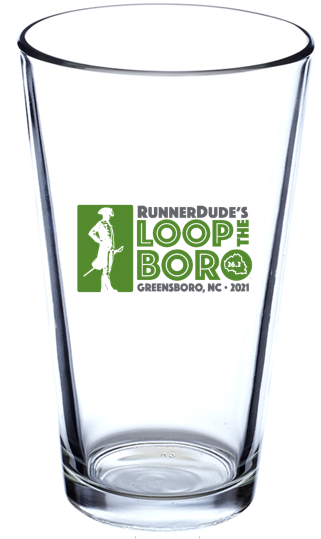 Waiver:
All participants must sign a waiver for this event. Click below to print out a copy of the waiver to sign and bring with you to packet pickup. There will also be copies of the waiver available at packet pickup.

Registration:
Full-Registration: $35 Includes the T-shirt, printed route directions, and links for RunGoApp GPS route directions.
EARLY BIRD SPECIAL for Full-Registation! Save 15% on Full-Registration, if you register by May 31st! Use Promo Code: LOOP15 at checkout. (Note: Be sure to click on "Apply" after entering the code.)
Note: Full-Registration will close June 30, so T-shirts can be ordered.

Basic-Registration: $25 Includes route directions and RunGoApp GPS route links. Does not include the T-shirt.
Note: Basic Registration will remain open through Packet Pickup.

Check Out Our Sponsors