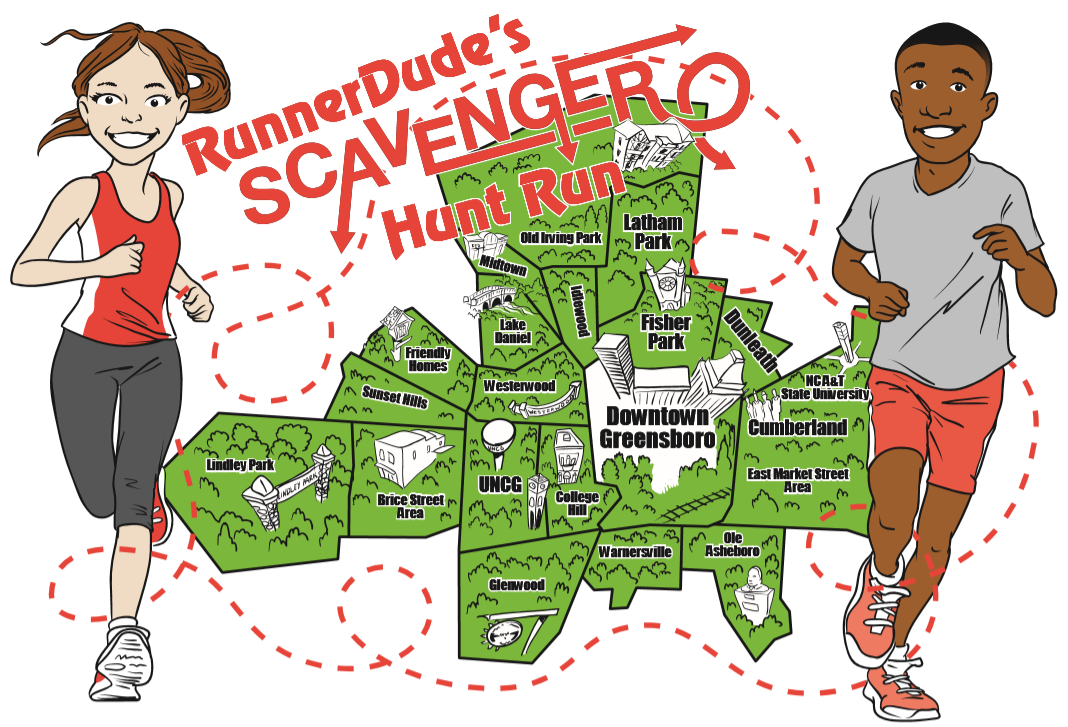 Help Support RunnerDude's Fitness
by Running the Virtual
RunnerDude's Scavenger Hunt Run!
Run or Walk this event anytime July 25th through August 1 or after!
Two Routes! This event will consist of a 5- and 10-mile route. Each route will have specific items to find during the run/walk. These items will be comprised of murals, public works of art, historical homes, monuments, and other cool finds in Downtown Greensboro and it's surrounding neighborhoods including the neighborhoods shown above. Note: the 5-mile route will not include all the neighborhoods.
Packet Pickup: Packet Pickup will be at RunnerDude's Fintes (in the parking lot behind the complex at 2309 W. Cone Blvd) look for the RunnerDude's Fintess truck on Thursday, July 23rd 12:00-6:00pm and Friday July 24th 12:00pm-6:00pm. At packet pickup you'll receive the printed route directions and scavenger item info for both distances as well as the RunGoApp route links for both distances (links will be activated at midnight Saturday morngin).
Event Week: You can run/walk the Scavenger Hunt starting any time during July 25th- August 1st or after!
Starting Location: Both routes will begin downtown a the corner of N. Elm St. and Friendly Ave at Center City Park. Parking in city lots and the parking decks is free on the weekend.
Have fun along the way! Take selfies of you with each scavenger hunt item you find and post to Instagram or Facebook with #RDSHR2020.
Register Today!!
Basic Registration (no T-shirt) is available at pickup on July 23rd and July 24th.
Note: This event is not a race. The routes follow greenways, sidewalks, and residential streets. Participants are to follow all traffic signals and signs. Participants will be responsible for their own fueling and hydration needs during the run/walk.